Athina in pantyhose gets wet
Athina is dressed in black pantyhose. Her ass looks amazing in the nylons, round and firm. She uses water, lots of water all over her body making her pantyhose all wet . She makes sure to caress her breasts, to tease her nipples, to caress her ass and inner thighs and pussy as she pours water. She then takes off the wet nylons and now caresses her naked skin.
otos and Video Clips. Naked and in nylons.
women show how horny they are at home in private
photos and video clips - 100% exclusive content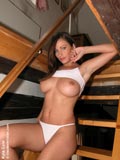 Kyla Cole
JOIN AND GET KYLA'S + 1700 PHOTOS
join - stay member - and get access to Kyla Cole's exclusive content +1700 photos

PRIVATE PHOTOS AND LONG PRIVATE VIDEOS - Women Naked and in Nylons
please visit my two sites...
* * *
Emails from Members
Dear Claude, I currently have an annual subscription to www.claudechristian.com. This site is incredible elegant eroticism at its best. The photography is professionally tops while the models are nothing short of outstanding. Claude, I have to congratulate you on running a beautiful site.
*
Dear Claude I love the photos and videos on your sites and just want to say excellent and splendid job.
*
Claude ...as your site is not a good site, or a great or even an exceptional site, there is non peril. It's like a Faberge egg: beautiful, magnificent, exquisite, a labor of love and excellence. I have never come across a site which celebrates and respects and exalts women's sexuality (un-affected and unrehearsed but sincere and spontaneous) and at the same time so absolutely and unabashed erotic.