The women you see here have been hand picked by me for their beauty and charm. They are all very sex, they all love sex. And they are all extremely nice persons, easy to be with and very willing to please. During our meetings I have them relax and show me (and you) their real personality as well as their secret sexual fantasies. Actually, many of them get horny, their nipples get erected, their pussy gets wet, just by knowing that men, meny men will see them naked on pics and on video.
Below is a small sample of some of the women.
pls enjoy - Claude
Theresa is a cute submissive woman. She loves rough sex and to dress in different sexy outfits. Most often she is dressed in jeans and a tight top, no panties and no bra. But she also loves have stay ups and sexy see through clothes, or no clothes at all. Naked her favorite position is legs spread and either maturbating or having her pussy manhandled. Members please enjoy my private pics and video clips with Theresa.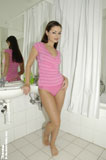 x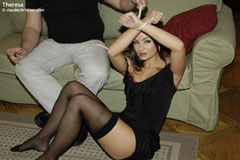 x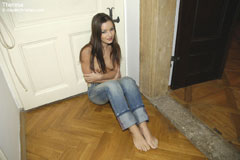 Anita is a very horny woman. She loves to obey and have sex. She dresses lady like whener she can. Or even dress like a slut preferably in see through bodie stockings. When she is dressed for a night out she never wears panties. And makes sure her skirt reveals more that it covers. Members please enjoy my private pics and video clips with Anita.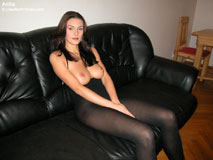 x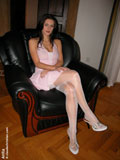 x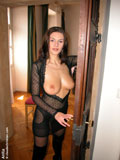 Just look at her photo. Camilla is a tall slim beautiful blonde woman. She emailed me and asked if I wanted to meet her. She wanted to have a man caress her body, her breasts and her warm wet pussy. She came to my place one afternoon, and we spent several hours playing. She loved trying different positions. And she loved when I used some nice smelling olive oil to caress her body, her nipples was hard and her pussy wet, very wet. The favorite position was being naked bent over, ass in the air, legs separated and having her pussy caressed. I have 400+ photos and several video clips from our long and very enjoyable afternoon. Members please enjoy my private pics and video clips with Camilla.
Veronica emailed me and said the photos at my site made her horny and that she wanted to be on my site. I told her to come to my apartment so I could look at her. Some day later me met. She was lovely and definately knew how to dress. A tight net top that showed her large D size breasts and her nipples where clearly visible, a jeans skirt that bearly covered her pussy. Her legs where long and having high heels made them look fantastic. I asked her if she likes sex... and she said - I am always wet... have to orgasm several times a day... - show me I said and without hesitation she lay back on my bed, had the skirt come up and took of her panties and spread her legs... immediately her pussy opened and it was wet... very wet... and I have it all on pics.This woman loves to spread her legs, masturbate and having her breasts and pussy caressed until she orgasm. Members please enjoy my private pics and video clips with Veronica.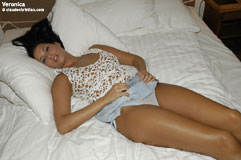 x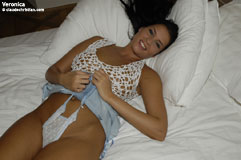 x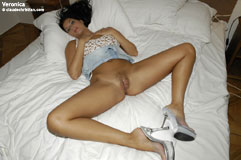 Sara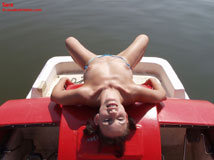 click to enlarge
Sara is a slim petite woman with a big smile. Her body is firm and she has nearly no breasts, but her nipples are sensitive. She told me she loves having her nipples pinched when she is fucked, preferably from behind. And her pussy is so tight that most men shoot as the push their dick in her. She told me that's why she's something of a pro giving blow jobs, making them hard again, because this woman loves to fuck.
Lucy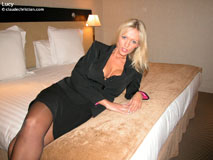 click to enlarge
Lucy is one sexy woman. I loved how she was dressed when we met at my hotel room. She looked like a business woman. And when I had her undress I loved even more what I saw. Black lingerie, black stay ups, and high heeled leather boots. She was so horny on her back legs spread.
Caprice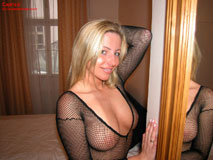 click to enlarge
Caprice is a woman, 100% horny sexy woman. No secret, this woman loves to fuck. Her ass is done for being fucked. Big round and firm and her pussy is nicely open as she bends forward. I was amazed by her breasts. Big full and heavy. She loved having them caressed with oil.
... it was in the middle of a shoot that Caprice told me she loves to fuck and to show her pussy... I asked her 'how do you mean?...' she then positioned herself in bed on all four, showing me... she separated her leg and pushed her ass back so I could see her open pussy... standing there fully exposed she said - I love to be fucked hard, very hard from behind...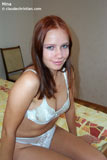 xx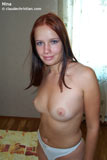 xx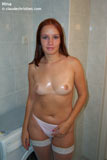 click to enlarge
I know that Nina is a dream girl for most men. Just 18yo with that lovely cute body, still slightly chubby. Very very soft skin, and breasts that are still forming. Breasts that need attention, nipples that hardens as soon as you touch them. I just had this kitten for some hours one afternoon. When I asked her if I could take her pictures she immediately said yes... She loved being naked in front of the camera, I had her put oil on her breasts and all over her body and she looked just fantastic. From being soft her breasts became more firm, her nipples erected. Then in my bed she willingly let me see her all naked. I know this is the first and only time she has ever had her pictures taken like this. Members please enjoy my private pics with Nina.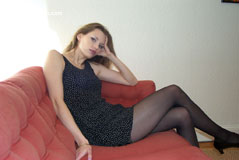 xx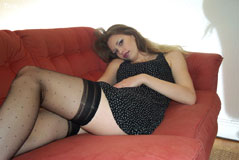 xx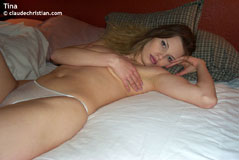 click to enlarge
I just met Tina. She is a lovely charming woman that loves to please men. From this woman you will only hear - yes... and please... Her body is so nice, slim, very slim with very sensitive nipples and a pussy that loves attention. This woman will let you do everything you've ever dreamed to do. She is still exploring her sexuality and loves kinky stuff. The pics I have are from several evenings and late nights at my place. I have her undress and show me her lovely body. She is relaxed and very private. As always, this is a treat, this is the first and only time this woman has done anything like this, having private pics been shown. Members please enjoy my private pics with Tina.
I met Paula in the elevator on the way up to my room. She looked fantastic in just a nice summer dress, no bra. I could see her full nice breasts under the fabric and I liked what I saw. I asked her if she was free for some play, and she asked - maybe, what would that be? Without hesitation she followed me to my room. I told her she was beautiful and that I wanted to see her naked, then have her dress in stockings with latex garter belt. She smiled and said that it sounded not to bad. In front of me she took of her dress, I nearly fainted, her breasts are just fantastic. I would say a C cup and the most full breasts I've ever seen, full round and very heavy. Paula was not a shy girl, and soon she was naked, started taking on the outfit. She admited she loves sex and to fuck and more than willingly showed her body for men. And that she loves to fuck with strangers. Men she just meet for an hour or two just for sex. Members please enjoy my private pics with Paula.
Melissa is an assistant at a company I work with. These private pics are from two evenings at the same hotel. I invited Melissa to my room for some play. She is always dresses very ladylike. First night she had on a nice dress, nice lingerie, dark elegant pantyhoses and high heels. The second night a strict dress and nice lingerie. Above I have had her undress, I have her show me her legs and ass, from behind, her ass is perfect, so her legs, so firm. She told me that she sometimes dresses in crotchless pantyhoses and no panties. She said she loves the feeling that she can fuck without undressing, just having her skirt come up. Members please enjoy my private pics with Melissa.
| | |
| --- | --- |
| click to enlarge | One of my long time members Chris emailed me some time ago and said he loved the women here at claudechristian.com and that he looks at the pics and videos with his new girlfriend. I know this guy is over 35 but his girlfriend Jenny is just 18. He wrote that she is submissive and loves to see the women all naked and exposed and the fact they look like they loved being watched, smiling and separating their legs all the way so their pussies are fully open for everyone to see. I emailed him and asked if he didn't want to share her with me, with my members as I hoped his girlfriend wouldn't mind or even would love having my members see her naked. He wrote back and said they'd love sharing some photos. He also said that Jenny wanted to have comments from my members if they liked her. And also what they would want to do to her if they had her to be used however they would want to (you can email her directly at jenny@claudechristian.com and I will forward the emails to her). Remember that Jenny is submissive and does whatever you want. Finally after some time Chris sent over a CD (with proper model release form and all legal stuff needed) and I got more than pleased to see they hade taken 250+ pics (all pics will be available to my members). Enjoying the pics was a treat. I love Jenny's looks, love her absolutely fantastic breasts, all natural, very firm and very heavy (just look at the pics below, how they stand firm even when she is on her back, and I promise you, they ARE all natural). And I love the fact that her nipples are extremely sensitive. I know she loves to have them pinched while being fucked. I love her slim waistline and a nice wet au natural pussy. The pics with Jenny is a treat to enjoy. xI've got 250 pics with Jenny. Members please enjoy these very private pics with Jenny. |
click here for preview of Monique's video clips
When I met Monique I first saw her long slim legs, then her firm ass, then her big double D breasts. This woman is sexy, she loves sex, loves to fuck. Very soon I knew she wanted to be on my site, that she wanted to show me, and my members, her body. That she wanted to show how horny she is. One late sunny afternoon I played with her. Enjoyed her body, enjoyed her open pussy. Her favorite position was all naked, fully spread and bent over to be fucked from behind. Members please enjoy my private pics and video clips with Monique.
click here for preview of Sabina's video clips
Some women are just more sexy! When Sabrina emailed me and said she is a horny slut that loves sex and wondered if I wanted to shoot her, guess what I answered! So, I told her to set aside some hours and we would met, and she could show me how horny she is. During some late afternoon hours one rainy day we then had some very pleasant hours. Sabina is only 21yo but she's got a womans full body. Her breats are perfect B size, full and firm and with perfect shape, all natural. Her nipples are extremely sensitive and reacts immediately to touch. And she's got the tightest pussy ever that opens as she spreads her legs. And this woman is always horny, always wet. And her ass, well her ass is amazing, guess you could say big but at the same time just perfect. It's big, round, firm and just lovely, and she loves a good spanking, she told me. Actually I got to spank her after one of her several orgasms during our meeting, got it on video for you to see. Think she had three or four orgasms during our afternoon. She loved being naked on her back and having her breasts and pussy caressed, and when I touched her clitoris and then finger fucked her she soon orgasmed and moaned with pleasure, her body shivering from the orgasm. Must tell you that this is an exclusve as she only did this shoot because she wanted to be seen by men, many men. And she skipped a day from school to do this shoot. Members please enjoy my private pics and video clips with Sabina.
... many more women inside members are
to JOIN please click here
"... must be one of the most genuine sites on the web"
Yes, I agree to the Terms and Conditions and want to become a member
JOIN NOW Instant Access
click here and join