New Woman Samantha
Samantha was visiting. I heard the shower. Took my camera and went in. She was wet, still wearing her nylons. She told me the feeling of water and nylons is amazing. I told her to show me her body and she did, slowly turning around. Her ass and legs looked fantastic in the wet pantyhose. Her sensitive nipples reacted as she touched them, getting pointy and hard.
* * *
join claudechristian.com
* * *
This is the place if you want to see women 18+ naked and in nylons in private personal pics and video clips. The women are true amateurs and show you how lovely they look and how horny they are. Become and stay Member and see all the updates from each woman - private photos and videos.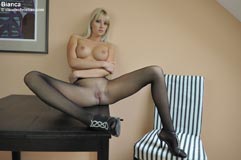 join claudechristian.com and get all the private pics and video clips - girls at home naked and in nylons

http://www.claudechristian.com
* * *
click here visit my site Claude's SexySettings.com - women naked and in nylons - tied and fucked