Eve Angel gets wet
Eve was in my bathroom one late night. I opened the door and told her to show me her body. She had on very exclusive pantyhose that showed of her nice legs and round ass. And a pink top... I could see her nipples thought the fabric. Had her show me her lovely breasts, her nipples where rock hard and pointy and I think she had been touching herself in the bathroom before I came in. Probably she had been touching her nipples and her pussy through the fabric of her pantyhose. there was a wet spot that was large between her legs. As she showed me her ass she pushed her ass up. I told her to take a shower and give me a wet t-shirt look and to make her pantyhose wet too! She obeyed and I could see in her eyes she was horny.
This Site is Dedicated to Beautiful Women in New, Fresh, Exclusive, Private Photos and Video Clips. Naked and in nylons.
http://www.claudechristian.com
women show how horny they are at home in private
photos and video clips - 100% exclusive content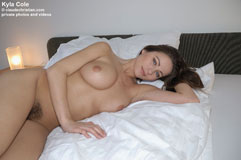 join and get access to Kyla Cole's exclusive content

PRIVATE PHOTOS AND LONG PRIVATE VIDEOS - Women Naked and in Nylons
please visit my two sites...
* * *
Emails from Members
Dear Claude, I currently have an annual subscription to www.claudechristian.com. This site is incredible elegant eroticism at its best. The photography is professionally tops while the models are nothing short of outstanding. Claude, I have to congratulate you on running a beautiful site.
*
Dear Claude I love the photos and videos on your sites and just want to say excellent and splendid job.
*
Claude ...as your site is not a good site, or a great or even an exceptional site, there is non peril. It's like a Faberge egg: beautiful, magnificent, exquisite, a labor of love and excellence. I have never come across a site which celebrates and respects and exalts women's sexuality (un-affected and unrehearsed but sincere and spontaneous) and at the same time so absolutely and unabashed erotic.