New Woman Katrin
Katrin is a cute nice girl. And she loves to fuck. She told me she reaches orgasm's as soon as she is penetrated. As the dick goes deep inside her her first orgasm starts... then she gets several more. She also admitted that she love to suck dick and finger her pussy at the same time and always gets on orgasm as she feels cum in her mouth. I loved shooting her. Her lovely breasts have rock hard nipples. Her pussy is tight wet and warm. Soon I realized that she is submissive and loves it. And loves to fuck strangers.
* * *
This is the place if you want to see women 18+ naked and in nylons in private personal pics and video clips. The women are true amateurs and show you how lovely they look and how horny they are. Become and stay Member and see all the updates from each woman - private photos and videos.
*
Below are the updates so far in Members Area
* * *
Gallery Katrin gets naked
Katrin is horny. She slowly shows off her body. Her nipples are already hard, her pussy already wet. She takes off her skirt, then her top, keeps her pantyhose on. Then have the nylons down and show her cute pussy and her round firm ass. Members please enjoy my 39 selected very private pics.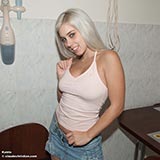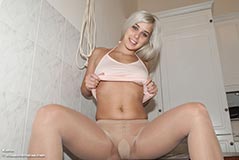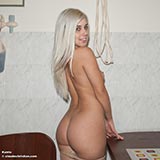 download this gallery as zip file - pics in size 3000 pixels
Gallery Katrin undressing
Katrin is in my bedroom, one late night. In a sheer night dress, white net stay ups and high heels. She looks like an angel. Slowly she undresses, exposes her body for me. They lays down on my bed, horny as always. She is submissive and horny and wants to be used. Members please enjoy my 64 selected very private pics.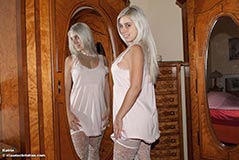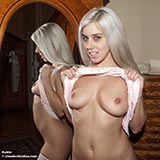 download this gallery as zip file - pics in size 3000 pixels
Video Katrin in cut open pantyhose bent over gets fingered
I just love Katrin. This girl is always happy and always willing to do whatever you want to do to her! She loves when a man uses her for his pleasure. She told me she gets orgasms if she see the man is horny and feel his hard dick inside her. And she always orgasms when he shoots his cum inside her. I had her at my place, had told her to undress but keep her pantyhose on. Had her bend over then used a scissors to open her pantyhose exposing her ass. The pantyhose kept her legs together and her wet pussy was visible between her legs. She pushed her ass up and was waiting for me to stand behind her and reach for her breasts. Members please enjoy this private video clip.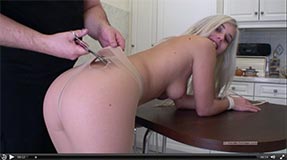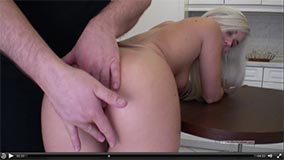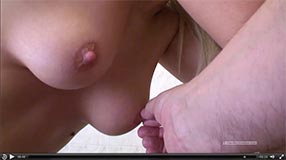 click here for video mp4 - 7 min - streaming 960x540
click here for zip file mp4 - 960x540
*
click here for ios video streaming m4v - 7 min
Gallery Katrin bent over pantyhose down
Katrin has an amazing behind. And her pussy is visible between her legs. This girl love to be fucked from behind. When you fuck her you will hear her moan and scream and her pussy will flow pussy juice and squirt as she reaches orgasm. Here she is in my kitchen bent over, restrained. Her pantyhose down, her ass and pussy exposed. Members please enjoy my 27 selected very private pics.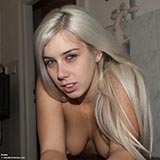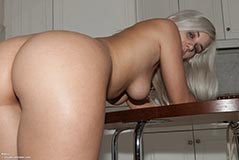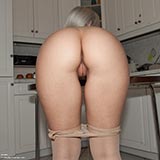 download this gallery as zip file - pics in size 3000 pixels