New Woman Monika

Monika is a shy girl. But she loves sex, loves to fuck. And she loves to get naked, having a man admiring her naked body, her super soft skin. This girl has super small tits with extremely sensitive nipples. And she loves to have her body caressed. You just have to pinch her nipples and her pussy gets wet. She also loves nylons and also having sex wearing pantyhose that gets ripped open.
* * *
This is the place if you want to see women 18+ naked and in nylons in private personal pics and video clips. The women are true amateurs and show you how lovely they look and how horny they are. Become and stay Member and see all the updates from each woman - private photos and videos.
*
Below are the updates so far in Members Area
* * *
Gallery Monika gets naked
When she came to my place the first time she had dressed to impress. A cute top, no bra. Short jeans skirt, no panties. Stay ups and high heeled boots. She immediately asked if she could get naked. She wanted to show how horny she is. Wanted to have me tell her that she made me hard. I admired her small breasts and her rock hard nipples. A loved her super slim waistline and her round ass. And her shaved tight pussy. She told me she was horny! Members please enjoy my 65 selected very private pics.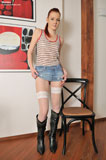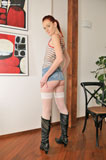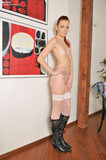 Gallery
download this gallery as zip file - pics in size 3000 pixels
Gallery Monika in pantyhose and high heels
Monika has the cutest small breasts, with nice hard nipples. She told me she loves having them pinched. I had her in my bed, in pantyhose and still wearing her high heels. She was relaxed and submissive. Her legs looked lovely in the nylons. And she was caressing her skin through the fabric. She was now wet and horny. Members please enjoy my 30 selected very private pics.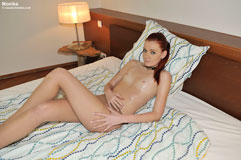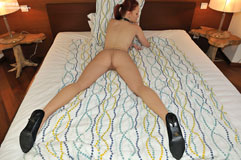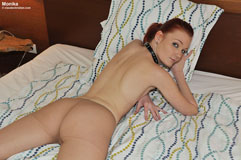 Gallery
download this gallery as zip file - pics in size 3000 pixels