New Woman Nikky

I was s happy when I got contact with Niiky. And even more happy when she told me she would love to be on some photos, even do video. She admitted that she loves to tease men, loves sex, and loves to fuck both young and old men, preferably strangers. She loves to be used, she told me. She came over a couple of times, late evenings and we played around. She loved to dress sexy. Dress in nylons, and to get naked and show her cute small tits, round firm ass and her tight warm dripping wet pussy. This girl is always wet, always horny...
* * *
This is the place if you want to see women 18+ naked and in nylons in private personal pics and video clips. The women are true amateurs and show you how lovely they look and how horny they are. Become and stay Member and see all the updates from each woman - private photos and videos.
*
Below are the updates so far in Members Area
* * *
Gallery Nikky in crotchless pantyhose and high heeled boots
Nikky has dressed to impress. A cute top, no bra. Jeans hot pants, crotchless pantyhose, no panties and knee high high heeled boots. She's horny. She undresses and I can see her nipples are rock hard. Still keeping the nylons and boots on she lets me blindfold her. Then she shows her round firm ass and on her back spreads fully apart and shows her tight pussy. Members please enjoy my 52 selected private pics.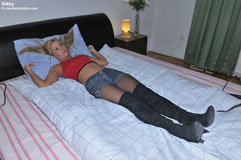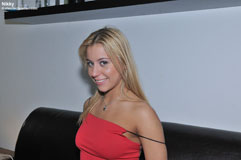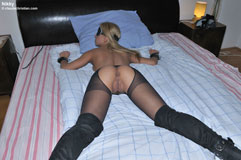 Gallery Nikky in crotchless pantyhose and high heeled boots
download this gallery as zip file - pics in size 3000 pixels
Video Nikky gets wet
I have Nikky at my place. It's late one evening. She's dressed in a lovely corset, nice pink net pantyhose and small string panties. She wants to take a shower. I tell her to keep the clothes on and get wet. She does. She's horny, she loves that I am looking at her. She gets totally wet. Then takes off the corset and keep the water running all over her body, her nylons are now totally wet. Then she takes off the pantyhose, then the string. I admire her petite firm body. Her lovely firm tits, her round firm ass... In front of me she caresses her nipples, her ass and her wet pussy. Now she needs to orgasm...
7 min 30 sec streaming video (also in zip file for easy download)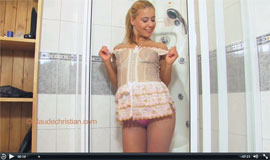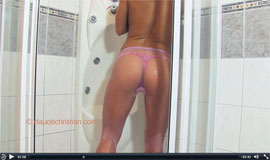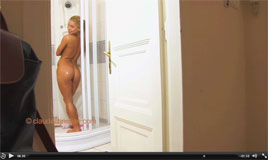 Click here for video - 7 min 30 sec - streaming
click here for zip file - 7 min 30 sec - video
Gallery Nikky in wet net pantyhose
Nikky is so cute. This girl makes your day, and night. She has the nicest smile and a petite firm body. And she loves to show off her body. When I told her I wanted to see her dressed in the shower she just said - let go! Here she is dressed in a lovely corset and pink net pantyhose and panties getting all wet. Members please enjoy my 29 selected private pics.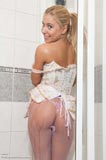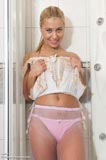 Gallery Nikky in wet net pantyhose
download this gallery as zip file - pics in size 3000 pixels