New Woman Ashley

Ashley is a mature woman that was introduced to me by a female friend with the words... " .... you must meet her, she's so horny and wants men to know it... " the friend who told this also said "... actually she will love you if you call her a horny slut... she really loves it!!! " So I trusted my friend and had her over. Had her dressed lovely, but also very sexy, no bra, no panties. And in a dress that easily showed her body. She came over one late afternoon and the first thing she said was "... please make me feel like a slut, I am a horny slut... ". It was a treat to have this lovely mature woman and enjoy her company for a couple of hours.
* * *
This is the place if you want to see women 18+ naked and in nylons in private personal pics and video clips. The women are true amateurs and show you how lovely they look and how horny they are. Become and stay Member and see all the updates from each woman - private photos and videos.
*
Below are the updates so far in Members Area
* * *
Gallery Ashley is horny shows her body
I had Ashley at my place this late afternoon dressed in golden. A golden dress, garter belt and nice stockings and high heels. She was horny, she told me she's always horny. That she loves to behave like a horny slut. This mature woman needs sex! I told her to show me her body, show me how horny she is. And she did. Her body is lovely, her skin super soft and she also told me she loves to be fucked doggy... Members please enjoy my 60 selected very private pics.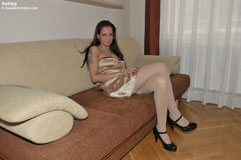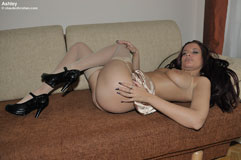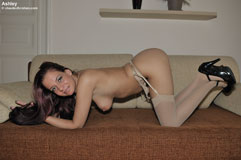 Gallery Ashley is horny shows her body
download this gallery as zip file - pics in size 3000 pixels
Gallery Ashley has to stand doggy
Ashley has to stand doggy in her cut open pantyhose. She obeys, she loves it. She stands and pushes her ass up. I then have the nylons more off and expose her naked oily soft skin. I have her take off the blindfold and she's smiling... she's horny... need to be fucked she tells me... Members please enjoy my 37 selected very private pics.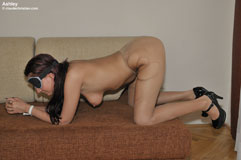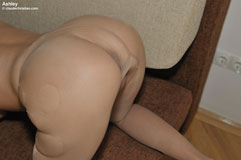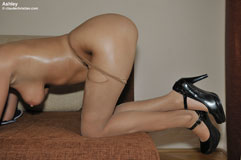 Gallery Ashley has to stand doggy
download this gallery as zip file - pics in size 3000 pixels