This Site is Dedicated to Beautiful Women in New, Fresh, Exclusive, Private Photos and VideoClips. You have never seen them like this. Content is private and exclusive - only seen here and produced by me. Not produced by pro production teams for different websites. But all personal.
take care / Claude
Preview Video Clips
New Woman Sarah
Sarah loves to dress extremely sexy.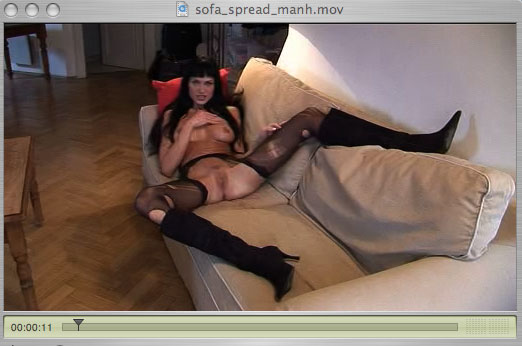 actual size of format for video clips - 16:9 / 512x288 pixels
Please use the latest version of QuickTime - download is freeVideo clips download in a separate window - so you can surf ClaudeChristian.com while it downloads
format: quicktime/mpeg4 for best quality
Join and get exclusive access to Sarah's private photos and video clips.
Yes, I agree to the Terms and Conditions and want to become a member.
JOIN NOW Instant Access
click here and join
Video
Sarah wanted to show me how horny she is, how submissive she can be. I told her to
lay and spread her legs for me. I then finger fucked her nicely. Her pussy became wet and she moaned with pleasure.
6min 48 sec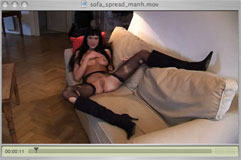 xx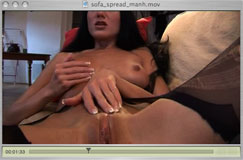 xx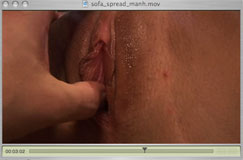 Video
Video Sarah tied and manhandled to orgasm
Sarah loves to have her legs spread. She told me she can feel her pussy being open then, and feeling how it gets more and more wet, until pussy juice flows down the crack of her ass. This afternoon I had her on my table, naked. I told her to spread her legs as far apart as she could, and she did. Her pussy was already wet and open and her nipples rock hard. Guess she knew what to expect, a good manhandling until she orgasms. I started by manhandling her breasts, using oil. Gave them a nice manhandling and pinched her rock hard nipples until she moaned. Then finger fucked her wet pussy, her wet warm tight pussy... then caressed her clitoris until she orgasmed, her body shivering from several strong orgasms, one after the other. Members please enjoy this private video clip.
3 min 26 sec version streaming video and 12 min 50 sec video (both in zip file for easy download)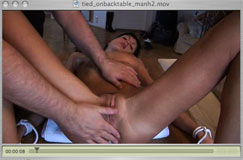 xx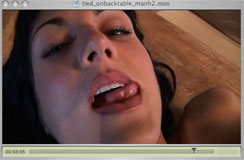 xx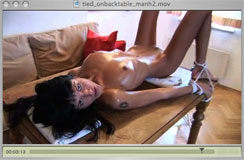 Video
This late afternoon I had Sarah all naked in my bed. She told me she was 'so fucking horny'. I had her lay down on her back
spread eagle, all spread and open. I then caressed her body with oil and soon her pussy was dripping wet, she laying there moaning.
I finger fucked her to orgasm.
5 min 15 sec version streaming video and 12 min 50 sec full video (both in zip file for easy download)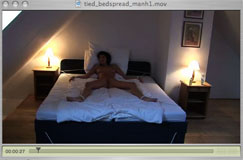 xx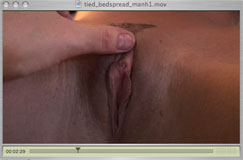 xx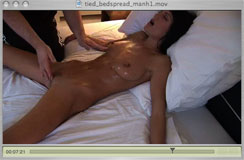 Video
Here she is, undressed and horny. Only in ripped open pantyhose and high heels. I have her on her back on my sofa, nicely stretched. I then manhandle her to orgasm. Members please enjoy this private video clip.
pls note! this is a real orgasm - no fake
9 min 57 sec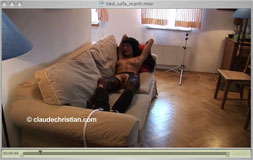 xx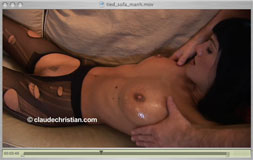 xx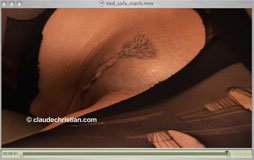 Video
Sarah was dressed in a tight top, no bra, latex skirt, garter belt and stockings and high heeled boots.
She told me she wanted to feel submissive and be used.
4 min 24 sec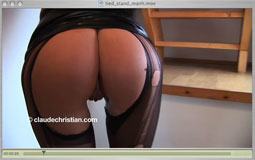 xx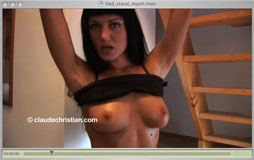 xx